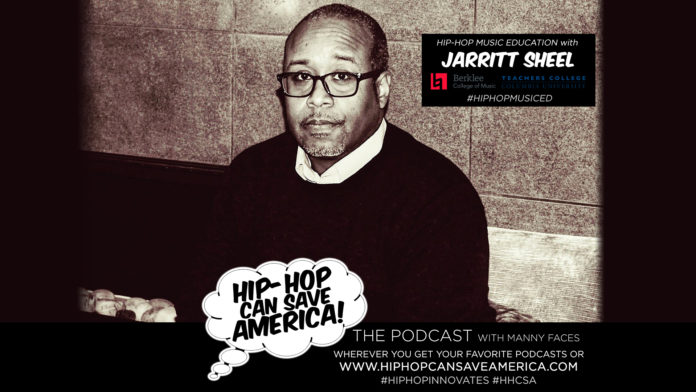 On this episode of "the world's smartest hip-hop podcast"…
Hip-hop music education: Teaching hip-hop music as MUSIC.
CLICK HERE TO SUBSCRIBE TO THE HIP-HOP CAN SAVE AMERICA! PODCAST FOR FREE

Jarritt Sheel is an assistant professor of music education at the Berklee College of Music in Boston, MA. He is also a fifth-year doctoral candidate at Teachers College, Columbia University in the Music and Music Education Department. He is a professional musician who has toured the world and led youth ensembles in places like Jazz at Lincoln Center in New York City. He's particularly interested in how hip-hop music, culture, and pedagogies should be applied in music education and teacher training. Jarritt co-founded the music resource website www.hiphopmusiced.com and is leader of the social media dialogue, #hiphopmusiced.
Hip-Hop Can Save America! is brought to you by The Center for Hip-Hop Advocacy, dedicated to preserving, protecting, and promoting the ability of hip-hop music, culture, and spirit to improve humanity, fight injustice, innovate industries, and save lives.
If you have a product, service, or story you want to get out to a rapidly growing audience of people like you, you can sponsor this podcast. We also accept tax-deductible donations to help make these podcasts and our other work possible. Visit hiphopadvocacy.org to learn more, contact us, or contribute.
The show is produced by Manny Faces through the award-winning podcast and audio journalism production studio, Manny Faces Media, producers of acclaimed social justice journalism podcast News Beat, as well as several other shows from across the worlds of business, marketing, culture, and more. Visit us at www.mannyfacesmedia.com
CLICK HERE TO SUBSCRIBE TO THE HIP-HOP CAN SAVE AMERICA! PODCAST FOR FREE