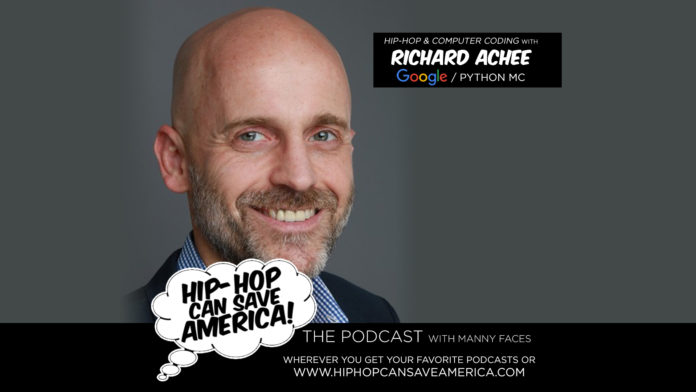 On this episode, we speak with Richard Achee. Richard works in Strategic Partnerships at Google, and through Google's Code Next initiative and a partnership with Rapport Studios, created an initiative called Python MC that uses hip-hop music to teach young people the basics of computer coding. We've seen it action several times now, and it's one of our favorite examples of the intersection between hip-hop and tech.
CLICK HERE TO SUBSCRIBE TO THE HIP-HOP CAN SAVE AMERICA! PODCAST FOR FREE

For more about Python MC, visit pythonmc.trinket.io. Also, Rapport Studios creates #engaging & #immersive #learningexperiences harnessing the power of #tech, #media, & #pedagogy to scale empathy & inspire humanity. Visit them at www.rapportstudios.com
Please make sure you've subscribed to this podcast on your favorite podcast app, and that you rate, review us, and share us with anyone you think would dig what we do.
Hip-Hop Can Save America! is brought to you by The Center for Hip-Hop Advocacy, dedicated to preserving, protecting, and promoting the ability of hip-hop music, culture, and spirit to improve humanity, fight injustice, innovate industries, and save lives.
If you have a product, service, or story you want to get out to a rapidly growing audience of people like you, you can sponsor this podcast. We also accept tax-deductible donations to help make these podcasts and our other work possible. Visit hiphopadvocacy.org to learn more, contact us, or contribute.
The show is produced by Manny Faces through the award-winning podcast and audio journalism production studio, Manny Faces Media, producers of acclaimed social justice journalism podcast News Beat, as well as several other shows from across the worlds of business, marketing, culture, and more. Visit us at www.mannyfacesmedia.com
CLICK HERE TO SUBSCRIBE TO THE HIP-HOP CAN SAVE AMERICA! PODCAST FOR FREE