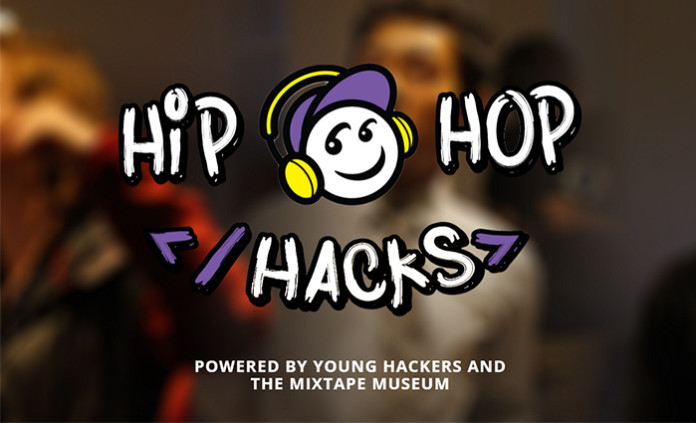 Teen programmer incubator Young Hackers and hip-hop archival initiative The Mixtape Museum in partnership with Monthly Music Hackathon have joined forces to host a free, hip-hop themed hackathon titled Hip-Hop Hacks. The 2-day event will take place at Spotify's New York City office where high school students will study the elements of hip-hop, participate in code and music workshops, network with other students, and learn from music and tech executives.
Exploring how technology has immersed itself in the hip-hop and music community, the goal of Hip-Hop Hacks is to showcase how important technology and hip-hop are to one another. Since its inception in the early 1970s, hip-hop culture has been one of the most important forms of expression for youth.
The drive, the motivation and the processes are similar to the path of a tech start-up or entrepreneur. The culture has been on the forefront of new technology, from the turntable and the microphone to music distribution mediums such as vinyl, compact cassettes, mp3s and now applications and algorithms.
"We want to encourage youth to create technological innovations that will impact the future of music," says Sommer Regan McCoy, founder of The Mixtape Museum. "For many students, Hip-Hop Hacks will be an entry point to a career path in tech that they never imagined was possible."
Sommer met Young Hacker founders Austin Carvey and Mamadou Diallo as a mentor at a Young Hacker event. The idea came to her when students started to freestyle about code. "I asked one of the students what they thought of the idea to partner up with the Mixtape Museum. And here we are," she says.
Austin and Mamadou, 17, met during All Star Code's 2014 Summer Intensive, a program that prepares young men of color for full-time employment in the technology industry. After attending Monthly Music Hackathon at Spotify, they wanted to plan their own. Having never done so before, it wasn't until "Juicy" by The Notorious B.I.G. came on during a planning session that their "dream" was realized.
"It's nice to have a niche," Mamadou says in his interview with CNN Money. "When I was first introduced to All Star Code, I wasn't really aware of the lack of diversity in tech. But after visiting many of the big tech firms, you start to realize it. That's why giving kids like myself access to coding education early is so important."
"I like coding because of the freedom it provides and I want to help other people see how free the world can be for them," adds Austin. "Helping others make this realization has been my main motivation in planning hackathons with Young Hackers."
Companies supporting Hip-Hop Hacks on April 2nd and April 3rd include Genius, Playster, Karmaloop, Minds Behind the Music, SESAC, Loop Labs, Beat Making Lab, Rhymes Over Beats, The Hip-Hop Education Center at NYU, The Center for Hip-Hop Advocacy, Today's Future Sounds, and Wix Music. There will also be a special performance by alternative hip-hop group Oxymorrons.
To register and for more information on Hip-Hop Hacks, please visit the website.
The Young Hackers | Mixtape Museum | Monthly Music Hackathon | @theyounghackers | @MixtapeMuseum