Lonzo Ball, newly drafted point guard for the Los Angeles Lakers, set off a fiery social-media fueled debate in the world of hip-hop with his recent comments regarding his taste in rap music, and Nas in particular.
"Y'all outdated man," the 19-year old baller stated during the premiere of Facebook reality show Ball in the Family, when the discussion of 'real' hip-hop came up. "Don't nobody listen to Nas anymore…Real hip-hop is Migos, Future…"
The response by Ball, whose opinionated comments regarding his taste in music have sparked similar discussions in the past, ignited an onslaught of commentary in and out of the hip-hop universe.
At issue is a long-running conversation involving a perceived generation gap between older rap traditionalists, who lament the current direction of mainstream rap music, and younger rap evolutionists, who arrogantly thumb their nose at the criticism with the same rebellious animosity those elders flaunted at people who lambasted the music and lifestyle of their era.
---
---
It's an age-old argument that occurs across all sorts of disciplines, not only genres of music, but film, literature, fine arts, all of which are continuously subjected to the same type of intergenerational disagreements.
However, the comments made by Ball — and the collective response by members of the hip-hop community and media — expose a potentially fatal set of flaws that, if not properly addressed, are a serious threat to the true evolution of hip-hop.
The crux of this vulnerability is that Lonzo Ball didn't actually say Nas was irrelevant. Yet, nearly every media outlet, fan, lover, hater, supporter or critic of his statements, took his perception of Nas' status as a recording artist as a measure of 'relevancy.'
For a 19-year old who is fully immersed in today's pop culture landscape, much of which is heavily influenced by current hip-hop music and culture, Lonzo Ball is absolutely correct. In this context, Nas is only barely relevant (even that is only due to a brief flash of excitement over his 2016 song "Nas Album Done," with DJ Khaled).
The rebuttal, as it has played out repeatedly in social media commentary, memes, celebrity responses, "thinkpieces" and threats of a curse, refute this notion by pointing to Nas' legacy as a musical artist. Defenders tout his influence on generations of rappers who came after him, and his long-standing status as a respected lyricist who often brought out the best in what the genre has to offer. Migos or Future, they argue, wouldn't even exist without Nas.
Although this is somewhat more of a subjective and emotional argument, it is a compelling one. In that context, Nas is indeed ALWAYS relevant.
Normally, that's all there is to it. Subjectivity. Taste. Old School versus New. But all too often within hip-hop, these sorts of discussions belie a bigger issue, one much more important than what style or era of hip-hop music any one person considers more 'real.'
It must be emphasized that hip-hop is not merely a genre of music, but a social movement and lifestyle, defined so by the most acclaimed academic institutions. It has exerted significant worldwide influence on entertainment, fashion, commerce and entrepreneurship, politics, education, technology and many other fields. Hip-hop, as a culture, heavily influences the lives of millions of people throughout the country and the world, from all walks of life.
Understandably, there is a sector of the hip-hop generation, the ones who came of age alongside its ascension, who consider themselves of that culture. As they have aged, they have witnessed the positive effects that their understanding of hip-hop has had on society, and bemoan the ways in which commercialization of that culture has eroded much of its beneficial characteristics. Part of that fear rears its head in the form of off-the-cuff comments by young people when it comes to their understanding and respect for the shoulders on which they or their artistic heroes stand.
But to the younger generation, they are simply doing what their elders did when they were on the come up. They are finding community, enjoyment, solace and escapism via music and culture, adapting and creating new offshoots of it as they go, with an ingrained but perhaps subconscious understanding of what they are drawing off of. The argument that young hip-hop heads should be more cognizant of from whence they came is difficult to enforce when most old school hip-hop pioneers and architects themselves admit that they had no idea — or real interest in — what their actions would become. They were simply creating things in their own way, using whatever influences and resources they had available to them, that resonated with their peers. Expecting a younger generation to be fully aware of this or insisting they remain rooted in the same creative box as their elders can be seen as going against the counter-cultural foundation that exists at hip-hop's very core.
For many, this in of itself is a fascinating phenomenon, one with deep artistic, cultural and social significance. Both of these arguments have validity, and so in general, these debates are important.
But in this case, nearly everyone is wrong.
The fact is, right now, today, Nas is one of the most 'relevant' figures in American entertainment history, and although this status is rooted in his music, music has very little to do with it.
---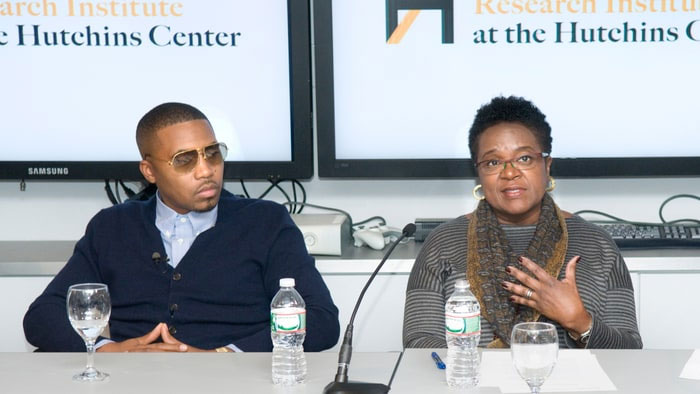 ---
Just this past week, Harvard University welcomed the latest cohort of fellows who were selected as part of the 2017-2018 Nasir Jones Fellowship at the HipHop Archive & Research Institute, a part of the university's Hutchins Center for African & African-American Research.
Harvard, as far as I know, is pretty relevant..
Nas is a founding partner in QueensBridge Venture Partners, a venture capital firm that has invested millions of dollars in various tech-based startups including powerhouses like Lyft, Dropbox, Casper and Genius.
Technology startups, venture capital and these companies in particular, are also very relevant.
Nas invested time, money and creativity to Mass Appeal, helping revitalize the media and content company and its associated record label, housing artists like Run The Jewels, Fashawn and Dave East. Doubtful Lonzo Ball would call those artists 'outdated.'
Nas voiced the raps in the high-profile Netflix series The Get Down which delivered a taste of hip-hop culture to millions of people in a medium outside of music.
Relevant.
Equating Lonzo Ball's statements of taste and current musical popularity as a measure of relevance — as nearly everyone on both sides of the issue did — and then to only defend Nas' relevancy based on those same conditions, diminishes and discredits Nas' legacy.
And it fails hip-hop.
---
---
Plenty of blame exists on why so many resort to this type of lazy analysis. False cultural prophets who help peddle a carefully crafted version of the music and culture to the masses, broadcasting from bully media pulpits in exchange for paychecks from large corporations who in turn reap profit from those they so callously influence, have helped stifle the understanding that hip-hop is more than music and reality TV.
'Hip-hop media' is also at fault. By using Ball's declaration of musical taste to fuel the polarizing but ultimately cyclical generational divide argument, hip-hop media once again fails to protect its own cultural legacy. These outlets purport themselves to be bastions of hip-hop music and culture, yet they do little more than amplify this sort of click-garnering gossip, missing the opportunity to educate readers and listeners that 'relevance' in hip-hop no longer revolves solely around whatever song, or over-the-top rap performer might be the bombastic, chart-topping, social media darling, flavor of the moment.
Whether or not anyone "still listens" to Nas or not, any response to young people like Lonzo Ball — who have a very valid perspective when it comes to the music and culture of his time — that ignores the innovative ways that Nas had indeed maintained 'relevancy,' fails Ball and every other young person who would agree with his musical tastes. By providing no counter-argument other than to point to Nas' significant contributions to American music history, traditionalists and purists miss a huge opportunity.
They miss the chance to educate young people that there can be an extremely prosperous and satisfying life as an extension of a successful career in music.
Or basketball.
They miss the chance to educate young people about the vital areas of importance where Nas has proven himself to be incredibly relevant. Financial independence. Technology. Education. Control of the media, to better document the narrative of oneself and one's people.
They miss the chance to say to Lonzo Ball and those who would agree with him, "Hey, I don't agree with your musical tastes, and I surely disagree with what you consider to be 'real' hip-hop, but I understand. However, you should know that plenty of people still listen to Nas.
"There are countless fans of his music who still listen to his catalog and eagerly await, and will surely listen to, any music he drops.
"But you know who else listens to Nas? Millions of people who listen to Run The Jewels or who read Mass Appeal or who watched The Get Down.
"World-class educators, researchers, documentarians and students at Harvard University, and the countless thousands they go on to influence. They listen to Nas.
"You know who else listens to Nas? Startup founders, investors and millionaires. People who are creating financial legacy for themselves and their family. They listen to Nas."
So, while some young people may think his music may be 'outdated,' it is an extreme disservice if they are not being informed that there are a lot of other ways to 'listen' to Nas.
Especially young, millionaire basketball players who, after the NBA money runs out, might really wish they had listened to someone in similar shoes who, even after the lights on his original career might have dimmed a bit, learned to stay extremely relevant.
---
---