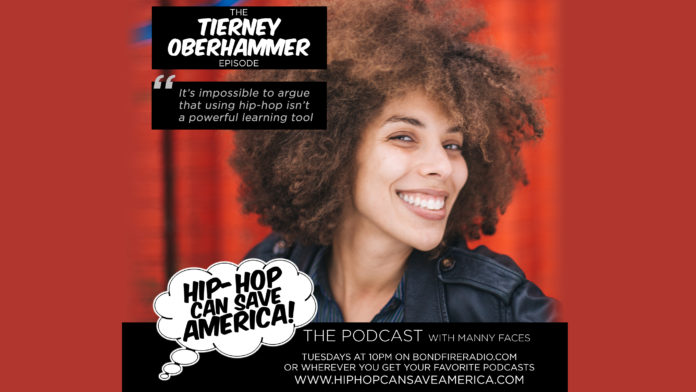 When talking about hip-hop being used in classroom settings, very often the conversation includes Flocabulary.
CLICK HERE TO SUBSCRIBE TO THE HIP-HOP CAN SAVE AMERICA! PODCAST FOR FREE
Flocabulary is a collection of media, songs, videos, printed materials, that thousands of schools use to complement traditional teaching methods across all grade levels and demographics, using hip-hop music. Their research-based approach has helped increase interest in all sorts of subjects, resulting in higher test scores and student engagement. The program, which heralds authenticity in their work, recruits actual hip-hop artists as well as subject matter experts to help craft their offerings, which many educators report have become a welcome part of their teaching careers.
Tierney Oberhammer is the Director of Production for Flocabulary, overseeing content creation, working with rappers, singers and producers to make music that aligns with K-12 curriculum. She has helped create hundreds of videos ranging from math to social and emotional learning, and spearheaded a series on social justice. She is a passionate advocate for hip-hop based education, and often writes and speaks on these topics, as well as the overall effectiveness of the Flocabulary program, and I was thrilled that she took time out to speak to me about how their brand of hip-hop education can mean so much more than just being able to pass a test.
CLICK HERE TO SUBSCRIBE TO THE HIP-HOP CAN SAVE AMERICA! PODCAST FOR FREE