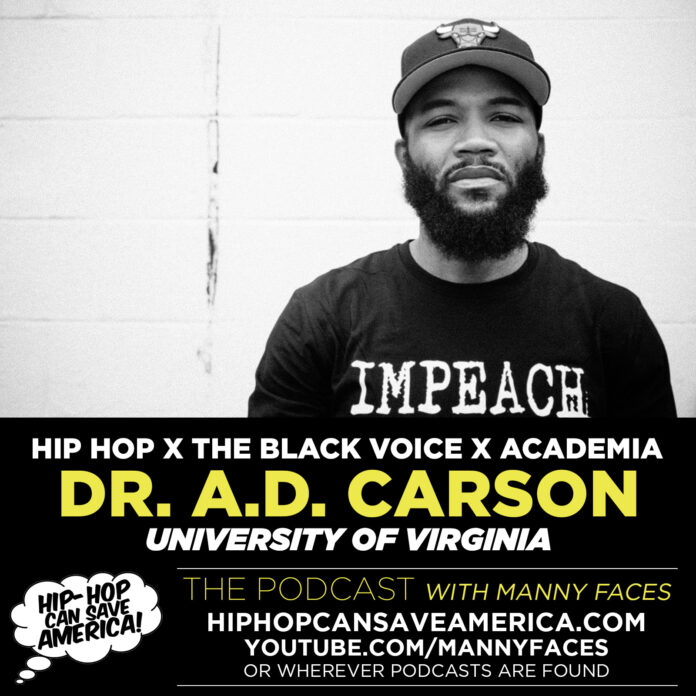 CLICK HERE TO LISTEN AND FOLLOW THE
HIP-HOP CAN SAVE AMERICA! PODCAST ON YOUR PREFERRED APP
Dr. A.D. Carson, who is Associate Professor of Hip Hop at the University of Virginia, received quite a bit of well deserved acclaim for his dissertation, "Owning My Masters: The Rhetorics of Rhymes & Revolutions," which was delivered as an exceptional rap album. But first and foremost, AyDeeTheGreat is a rapper, an artist, and sits in a unique position with one foot in the music world, and another firmly inside academia.
A.D. provides brilliant insight on this intersection, as well as other ways Hip Hop music and culture should be valued — both inside and outside of the classroom.
#hiphop #education #culture
————————–
Hip-Hop Can Save America! with Manny Faces is a Manny Faces Media production, in association with The Center for Hip-Hop Advocacy.
Links and resources:
EPISODE LINKS:
AyDeeTheGreat: https://www.aydeethegreat.com
A.D. on IG: https://www.instagram.com/aydeethegreat
SHOW WEBSITES:
Hip-Hop Can Save America! https://www.hiphopcansaveamerica.com
MANNY FACES: https://www.mannyfaces.com
NEWSLETTER (free!): https://mannyfaces.substack.com
SUPPORT QUALITY INDIE HIP HOP JOURNALISM: https://www.patreon.com/mannyfaces
Manny Faces Media (podcast production company): https://www.mannyfacesmedia.com
The Center for Hip-Hop Advocacy: https://www.hiphopadvocacy.org
SPONSORS / FRIENDS:
The Mixtape Museum: https://www.mixtapemuseum.org
Hip-Hop Hacks: https://www.hiphophacks.com
Hip-Hop Can Save America! is produced, written, edited, smacked, flipped, rubbed down, and distributed by Manny Faces.
Eternal thanks to Consulting Producer, Sommer.
CLICK HERE TO LISTEN AND FOLLOW THE
HIP-HOP CAN SAVE AMERICA! PODCAST ON YOUR PREFERRED APP
---
---